Evelyna's Story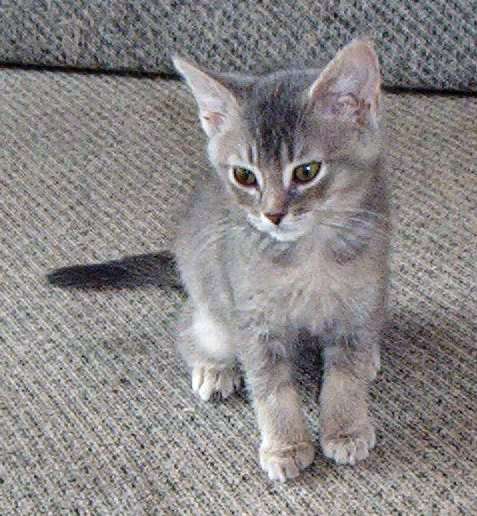 Burgruine's Evelyna


Evelyna is a Blue Ticked Tabby German Rex. She was born in Lage, Germany by the breeder Karin Bruder. I had heard of Evvy in December 2004 when Karin decided that she had to give up breeding and so needed to rehome some of her cats. I thought little of it at the time, apart from making a few enquiries for new homes in Denmark, but after the death of Sue, I was contacted by several people in the German Rex Cat Club, including Karin. They were all very supportive and keen to get us a new GRX.

Evvy was just the right age to leave her home; her sister is Erela Janina, but a brother died. After several emails to Karin, we agreed to have Evvy; although there were two other offers, one was a boy, and one was not yet born! A picture from Karin shows the litter.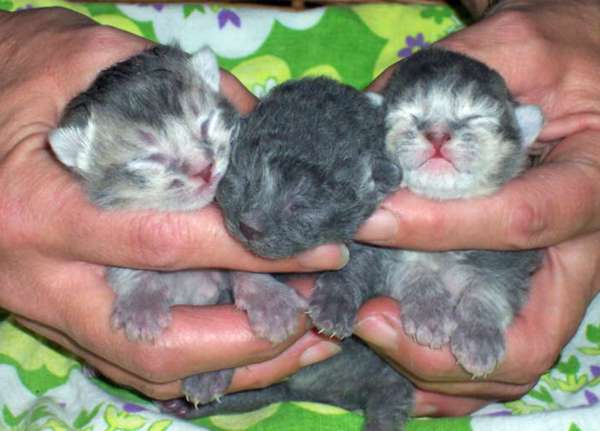 They were born on the 5th November 2004 - such a coincidence as Willow was born on the same date two years earlier! That, together with the way that Karin was being so helpful, decided us that Evvy was for us. We agreed to have her and arranged with Karin that we could meet Evvy half way. A student friend of Karin's travels in to Hamburg by train about once a week, and he was due again in just a few days. So on the 9th February we drove to Hamburg and met Ali at the station entrance at a quarter past four. After exchanging papers, Evvy was changed from her carrier into one of ours, and said goodbye to Ali. With the papers was a personal note from Joana, her daughter, that said:

"Dear Tony, Could you make a photo from little Evelyna. I missing her. Could you send it to my mum's email.
Love from Joana.
PS: I have played with her every day."

Needless to say I did! This is the first one.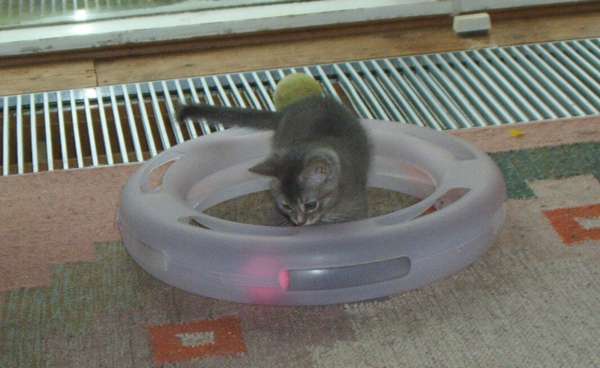 Evvy brought with her a mouse that squeaks when it is pushed. That fascinated the other cats and they all have a lot of fun with it! Within the very first few days she settled in; playing with the others, exploring the house, working out where everything is, and especially our bed where she sleeps with us, Peter, Snehvide and Misty. Almost straight away we had snow, but she had met that before in Germany. Before that came she had explored the cat run with her new friends.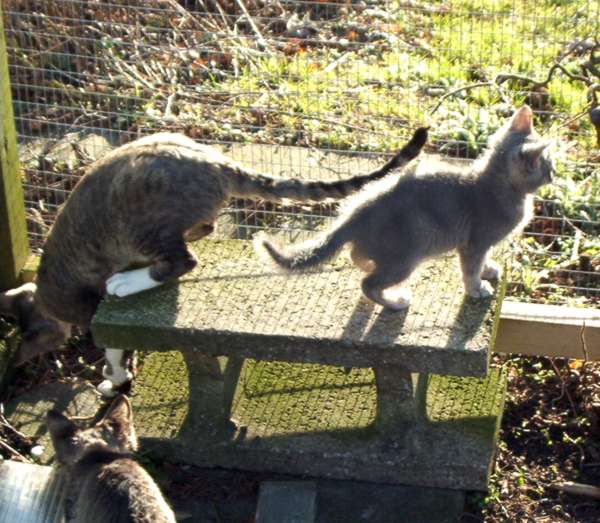 After two weeks we took her to the vets for her health check; that was the day after heavy snow, so we went the long way round, slowly! Kirsten was on holiday so Jens was the first to meet Evvy. I mentioned that she had lost her big appetite over a couple of days but Jens found that she had a lot of gas in her stomach; he thought she had just been too greedy, especially when stealing milk from my breakfast cereals. A stricter food regime, without milk, soon sorted her out and by the time I started writing this, her fourth week, she had already grown from 910g to 1300g, so no problem there. Now I have to get her registered in Denmark ready for her first show which we expect to be at the end of April - more news to come!

Now in 2006 Evvy has been to two shows and did well enough to get her certificates, but is obviously never going to develop curly enough fur to be a good quality show cat. Just for fun, at the first show, a friend of ours who is an Abyssinian breeder borrowed Evvy to show to her breeder friends as "my new queen"! Evvy's fur takes after her maternal grandfather, so is very Aby like. It took quite a few minutes for the joke to sink in!

At her second show we had Kordula with us with Sue's sister Crispina. The show organisers made a special presentation for the breed using our two cats as examples, and we distributed a leaflet about the breed and our hopes for the future. Now that we have Gerd, we wait with bated breath for the moment when he grows up enough to realise what is expected of him and Evvy!

While we wait, I have been able to add to the research available on the German Rex, and that article is available on the PawPeds website.

That was all written in 2006 and Evvy was the most loving little cat; friendly with everyone and quite mischievous when she felt like it! There is so much more to write about Evvy and her kittens that I cannot sufficiently expand this short piece about her to do her story justice.

Her full story will be written in a later Chapter of our History (link under menu, Text).

She was almost 14½ when she died, probably from a stroke, on 8th June 2019.