Curly-Sue's Story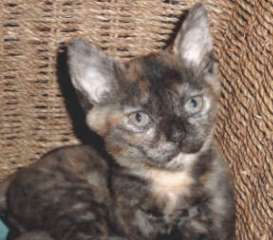 European Star's Curly-Sue


While I was putting together the first pages for the R&S Club website, I became interested in the less well-known Rex cat called the German Rex. My fascination developed until one day early in 2004 I found on the GRX Club site a list of kittens for sale. Curly-Sue was the result for Snugglebugs!

Let me first tell a little of the story of the breed itself. There are two very good websites that give the full story (see the links at the end), so I will not try and write it all over again, but just give the brief story.

In 1930 in Prussia the first described Rex cat was found but there are no known descendants. In 1951 the cat that became the foundation cat for the current breed was recognised as unique in Berlin, and she is thought to have been born in 1947. Her name is Lämmchen, and she produced several litters that included Rex type coated kittens until her last in 1962. Lämmchen was mentioned in an article in 1956 where the "German Rex" was mentioned as a breed. It was not until 1960 however that a German Rex (Marco Polo) was publicly exhibited and the breed started to become known.

Over the 1960/70/80 decades there was not enough interest in the breed to overcome the problems experienced by breeders in the former East Germany; as a consequence by 1999 the breed's hope was reduced to just one fertile female. Luckily several interested breeders got together before it was too late and started a hybrid breeding programme to re-establish the breed.

That cat was called Happy but she had been very sick for some time with pyometra before she went to a new owner. Not only is this a life-threatening illness, but it will also lead to infertility. Even the treatment can cause that. For her it was decided that one method of avoiding sterility was if the new owner combined basic treatment against the infection with mating the cat so that she became pregnant. That therefore was the course of action agreed between Happy's owner and other breeders.

Unfortunately, the breed was so diminished that at that time there were no studs available. With Happy so sick the only possible course of action was to use the most suitable male available no matter what the breed! There was no time to lose in consulting any breeding committees and then waiting for formal approval!

After further urgent discussion it was decided to use the owner's Abyssinian, Segena's Puschkin (also known as Maximillian), for the stud. Thus in 2000 the first litter was born that saved the breed, thanks to the extreme effort of Happy's owner.

As a further part of that effort, in 2002 the German Rex Cat Club was formed. Now in 2004 the German Rex database on Pawpeds has been started (I am the database maintainer) and by collecting all the data possible on the past, present, and future (today's kittens!) it is hoped to assist in preserving the records before they are forgotten.

As I said, I found a list of kittens on the GRXCC site and contacted one breeder, Elke. She did not have any for sale but did know of another who did. I quickly emailed Kordula Möhle who replied with the information that she had had a litter in April of four girls, of which three were good GRX type. Two were available, so which one did I fancy!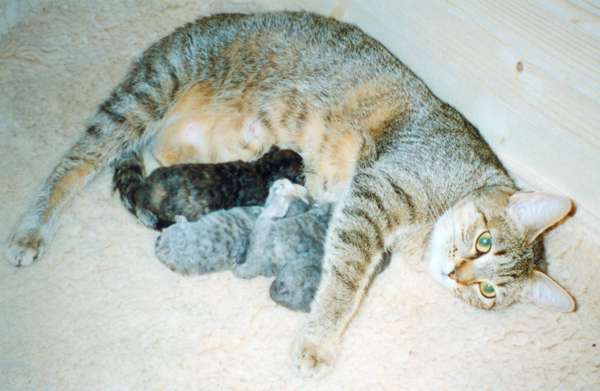 From the description and photo she included I picked Sue, and we reached agreement.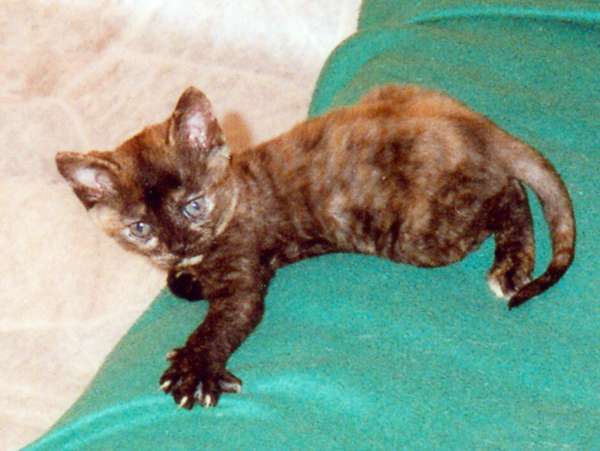 Now came the problem of collecting her as Kordula lives a long way past the border! Luck was again on my side when I asked Kordula if she would be going to a cat show in Northern Germany at the beginning of August 2004 - Wismar, on the 7th and 8th. She was, and intended to show the three girls, so agreed that I could collect Sue there on the 7th, the one day she would be attending. This was much better for us (only 242 miles!) and we made all the arrangements.

Bright and early on the 7th (well, 8.30 anyway!) we left home, stopping off to fill up the car's tank. When getting out my payment card, I realised I had forgotten to take my Euro wallet, so back home again! After that false start, we followed the Internet instructions to get to the show hall. What a disaster they were! We spent an extra two hours trying to find our way onto the right motorway around Lübeck as the German system is NOT to put the road numbers on the exit signs, so we kept missing the one we wanted. Eventually I stopped at a garage and bought a map - back to the old-fashioned method, and it worked fine. Until, after only a few hundred yards on what should have been the right road, the traffic was at a standstill with all engines stopped and many drivers walking around. The friendly motorist in front of us explained that there was a bridge open ahead, and it would take a while for the boat traffic to pass and the bridge close again. When we told him where we were going, he told us that the motorway was still not finished after some years, and so we would be travelling on the old country road for a while. He offered to drive in front of us until the right turnoff, for which we were very grateful.

Two hours later than we intended, hot and tired, we reached the hall at 3pm and slotted our little Micra into a space too small for a Mercedes. Then into the hall to find Kordula as well as our R&SK friends.

Finding them we at last met Sue in the flesh and were told that not only had she her certificate, but she was Best in Variety and Nominated.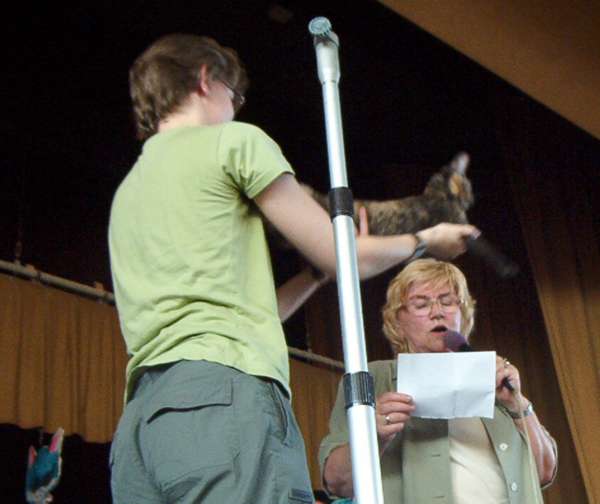 Later, on the BIS panel, she did not get any further with the Nomination, but a great success for Kordula and Sue - a cat to be proud of in her new home where, by the way, she is the first and only German Rex in Denmark.

When the show ended, Kordula said goodbye to her little girl and at 6.45pm we started for home. I had discussed the return route with Susanna, who had also had problems getting there, so we decided that a route south of Lübeck would be much easier. It was, although a bit longer and slower, so at 11.45pm we were home. Gerd and Wasse had been in during the day to check on the kittens and feed the hungry mother and all I needed to do was give them all their regular supper before putting Willow and her kittens to bed. Sue and I had the guestroom for ourselves - she quickly ate her supper and then jumped up onto the sofa with me, purred at me, and settled down happily - I was very pleased.

The next day I carried her out for a careful look at her home.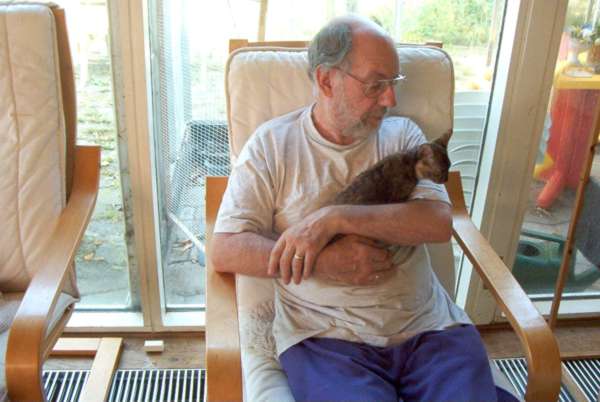 Her first experience of another cat here was rather traumatic as it had to be Willow! Willow's immediate thought was "here comes a kitten thief" and attacked Sue who ran frantically around until she dived under the sofa. I rescued her, calmed her down, while Myrtle tried to reassure Willow. It has taken about ten days for Willow to realise that Sue is no immediate danger; it helps that her kittens now disappear in all directions when she is not watching and that distracts her enough!

There are more photos in her own special Album, which I will add to from time to time.
Click here for the Album --- "Curly-Sue"

(The story WILL continue!)

Very sadly, when I wrote that, we thought that Sue still had her life ahead of her, but only five months later Sue was dead. Here is the rest of her story.


---

After that shaky start with Willow, Sue gradually became used to the household and all four kittens. As they grew up, she became especially friendly with Clementine - he was that much younger than her that he was good for her.

Her first cat show in Denmark was on the 26th September where her judge was Lone Lund. We have known Lone since Athos' early days and she was very interested in having a good look at Sue. I have copied her report here. Later, I was walking past where Lone was still judging and she called me over to say that she had nominated Sue to the BIS panel!

That was to be the end of a very promising show career as the FIP quarantine from Willow's litter meant that the next two shows we had planned had to be cancelled. What was worse was that Sue herself became ill near the end of November. By then we had taken her to bed with us at night for some while. One night she had diarrhea - under the bed of course - so after it happened again the next night, I took her to see Kirsten. She found nothing really wrong with her, so gave her the normal treatment for an infection. Within only two days Sue was back to normal, so that seemed to be that.

Unfortunately, about five weeks later it happened again. This time the treatment was changed slightly and Kirsten took some blood to send off for tests. Although the readings were a little off normal, it seemed to be nothing to worry about.

However, two weeks later Sue was ill again and this time Kirsten felt an abnormal lump in Sue's abdomen; it had not been felt before, so we agreed that it was necessary to investigate by exploratory surgery the next day, the 27th January. Sue slept happily on the bed with us during the night before. On that Thursday Kirsten telephoned me within a short while of opening Sue's abdomen with very bad news. There was a large lump where her intestines had fused together, and the damage was so severe that nothing could be done to repair it. We agreed that Sue should not wake up, and that the lump and other samples should go for investigation to a pathology lab.

I went and fetched Sue home where her friends said goodbye to her before I buried her next to Laurel. After a few days we received the path. lab. report and that stated that Sue had a malignant lymphoma - a sort of tumour - in her intestines. They also made other tests, and they confirmed that she had not been infectious in any way, so our fears that it could have been a sort of FIP or feline Aids were laid to rest. So sad for her to have had such a short life.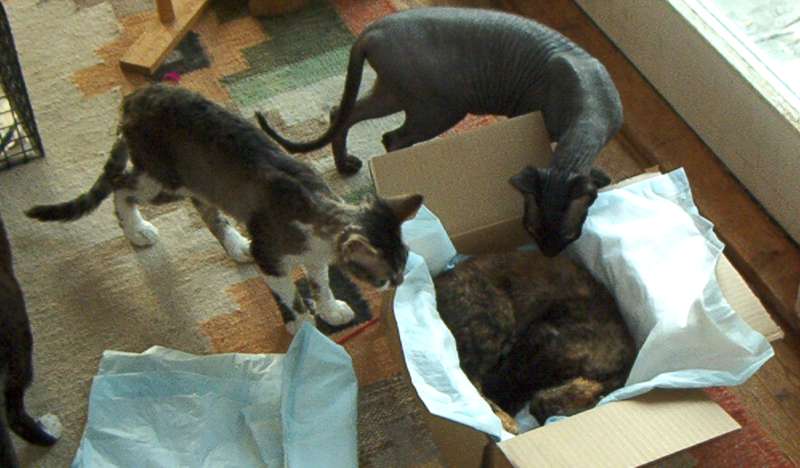 Now she has her own place in the part of our garden with it's happy and sad memories of them all. The snowdrops were just coming into flower, so I dug up a clump and put them next to her stone.


There is more information about German Rex available
Link to --- "The German Rex Cat Club"
Link to --- "Saxon Glory German Rex"
Link to --- "Pawpeds German Rex (new) database"